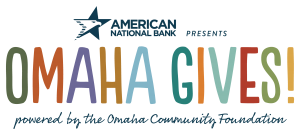 Omaha Gives! is a one-day online fundraising event organized by the Omaha Community Foundation and held on May 22 to raise support for nonprofits in Douglas, Sarpy, and Pottawattamie Counties. It is a community-wide event to show off the area's spirit of giving, raise awareness about local nonprofits, and celebrate the collective
effort it takes to make this community great. Since 2013, this community give-together has raised $42 million for more than 1,000 nonprofits.
At Heartland Citizen Advocacy, Inc. our mission is to match people with developmental disabilities, intellectual disabilities, or a mental illness with a volunteer advocate from their community who will promote, protect and defend that person's welfare and interests.  It is in this spirit of connecting, collaborating and advocating that we have joined Omaha Gives!
With this event, we will have the opportunity to raise the funds needed for the recruitment of people with disabilities.  This involves seeking individuals in isolated situations such as homelessness, in shelters, group homes, assisted living, and understanding their needs and interests.  Donations will also help with advocate recruitment, where we identify potential citizen advocates on the basis of the situation, interests, and desires of the person with a disability.
Those who are interested in supporting Heartland Citizen Advocacy during Omaha Gives! can click on the PLEASE DONATE button, or make a donation by mail to Heartland Citizen Advocacy, Inc. at 10730 Pacific St., Suite 225, Omaha, NE 68114.  For more details about Omaha Gives!, visit their website (www.omahagives.org).
Thank you for your support!